What We Do
Railtec is an interior stair railing company, looking to improve the quality of your home with stairs and rails. We have established a large and impressive list of customers. For instance, builders looking to add value to new construction and homeowners looking to upgrade their home.
A Trusted Partner for Builders
We partner with only the best builders in Maryland. We work with builders who reflect the type and quality of work we produce. Railtec also works closely with custom and large home builders who appreciate our ability to meet with their customers. As a result, we relieve them from that aspect of the homebuilding process. We will help design the rail system, provide samples' and answer questions. We will also work with the homebuyer throughout the entire stair railing installation.
Quality and Satisfaction for Homeowners
Railtec also provides custom stair railings for homeowners wanting to improve the look and value of their home. Updating existing balusters and handrails can greatly improve the look and ambiance of a grand staircase or balcony. It can also help transform an ordinary foyer into a true work of art. For homeowners, we provide an estimate and design consultation. A design and construction specialist will meet with you to make recommendations and provide assistance. They will also answer any questions you may have regarding your stair railing project.
Staining & Finishing
At Railtec, we have a professional stain and finishing department. And so, we have the ability to match existing colors or custom blend colors for a beautiful finish on your stair rails.

Maryland's Leading Stair Railing Installer
Specializing in interior stair railing installations since 1996
Serving Maryland and Southern Pennsylvania.
Providing quality craftsmanship for homeowners and builders.
Parts List
Railtec works with America's leading distributors of quality railings' balusters' fittings' newels and handrails & treads. Our customers deserve the best. So, only the highest-grade materials and workmanship pass our inspection.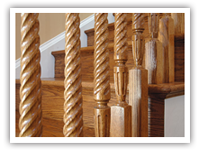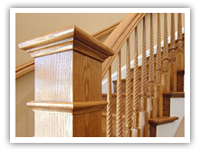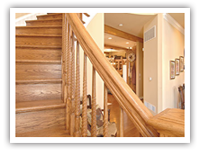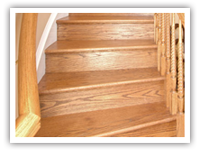 Baluster Types
Stair balusters are offered in a variety of types. For instance, square top and pin top balusters come in sizes 1.25" and 1.75" at the base. All stair balusters are either a primed white or stain grade oak or similar species of wood.
Newels
Newels are the large post in a rail system. They range in size from 3" at the base for smaller newels to 8"– 10" at the base for large trophy newels. They can also be obtained in paint grade or stain grade in different species of wood.
Handrails
Handrails are available in most species of wood. For instance, American Cherry, Brazilian Cherry, Maple, Mahogany, Walnut or Oak. Handrails can also improve the quality of the staircase. 
Treads/Risers
These two elements make up the actual stair– the tread is the area on which your foot rests. In contrast, the rise is the vertical area beneath the tread. Stairs can be built to include radius or rounded treads at the bottom of the stair to be more attractive and inviting.
Request A Free Estimate Or Contact Us With Questions